TWAM is a diverse tackle store. We stock everything from beginners to tournament tackle. With staff that are friendly and helpful, we'll make sure you catch the fish you're after. Competitive prices and the biggest range of everything, we are the guys to turn to. Browse through and get what you need, as well as helpful tips and new product information. New bargains and specials every week!
Being part of Australia's biggest Independent Fishing Tackle group means we have the buying power to bring you big ranges at the lowest prices.
All Tackle Worlds are individually owned.
We buy as a group to get YOU the big discounts.
We at TWAM are all experienced and active fishermen and bring that friendly, personalised touch that ensures YOU have an excellent fishing experience every time.

Staff Profiles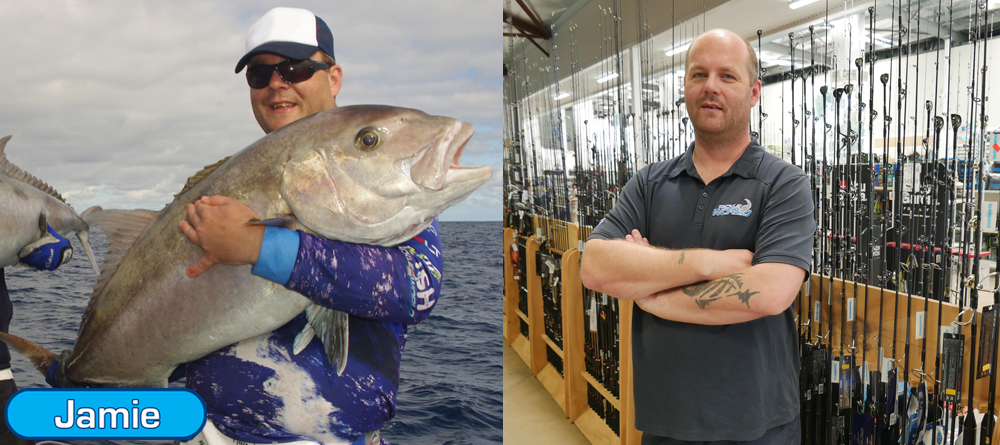 From Salmon to Sailfish, Snapper to Squid - Jamie has done it all. His passion for fishing is never satisfied, and he is forever looking to increase his knowledge and range of skills. Constantly on the lookout for a new adventure and always striving to tick species boxes, Jamie is a wealth of knowledge. Being a family man, he knows how to get the young ones involved and make sure the whole family can enjoy the day. If you're planning a long range fishing trip, or simply heading out into the Gulf for some crabs and squid, Jamie has you covered. As the store manager Jamie is responsible for the high level of customer service you can expect at Tackle World Adelaide Metro. He also has a big hand in choosing our massive ranges of products, suitable for SA fishing and Australia Wide.
Favourite Species: Southern Bluefin Tuna, Garfish, Samsonfish
Favourite destination: Yalata – Far West Coast
Years fishing: 30+ years
Specialising in: Surf fishing, Offshore Gulf, and the tropics
Favourite catch: 40kg Sailfish – Exmouth, 10ft Bronze Whaler – Yalata, 62lb Mulloway – Yalata, SA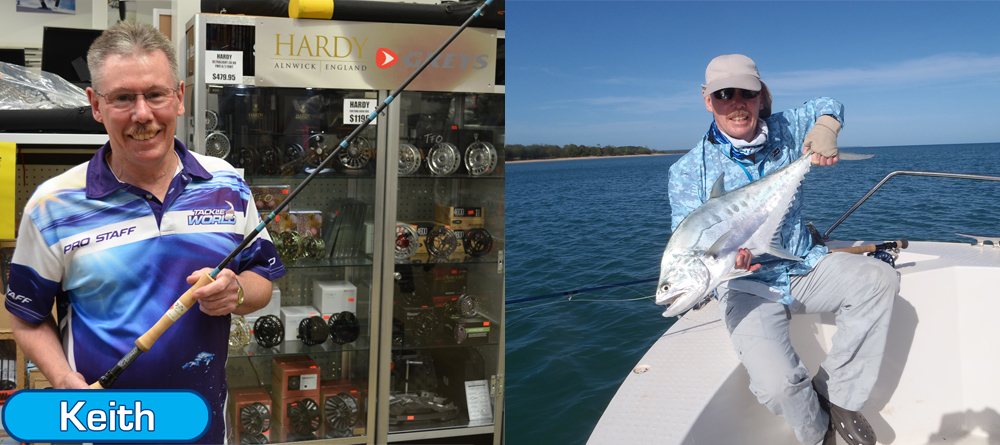 Keith brings a lot of experience to add to the team here at TWAM and has a passion for a range of fishing techniques. His favourite is undoubtedly chasing big Trout on fly gear which has enabled Keith to travel various places across the globe. This, on top of his great local knowledge for all bread and butter species, makes Keith a wealth of knowledge for all our customers. Keith is always more than happy to help with any questions or queries you may have, and if you're looking to get started in the fly game then he is certainly your man. Keith is developing our freshwater and saltwater fly section to be the best SA has to offer, and has the knowledge and expertise to go with it. Come in and have a chat to him! He'll make sure you catch what you're chasing.
Favourite Species: Brown & Rainbow Trout, Bonefish, Australian Salmon
Favourite Destination: New Zealand, Christmas Island
Years Fishing: 40+ years
Specialising in: Fly fishing, land based Salmon
Favourite Catch: Eight years old, fishing for his first wild Brown Trout in the Central Highlands of Tasmania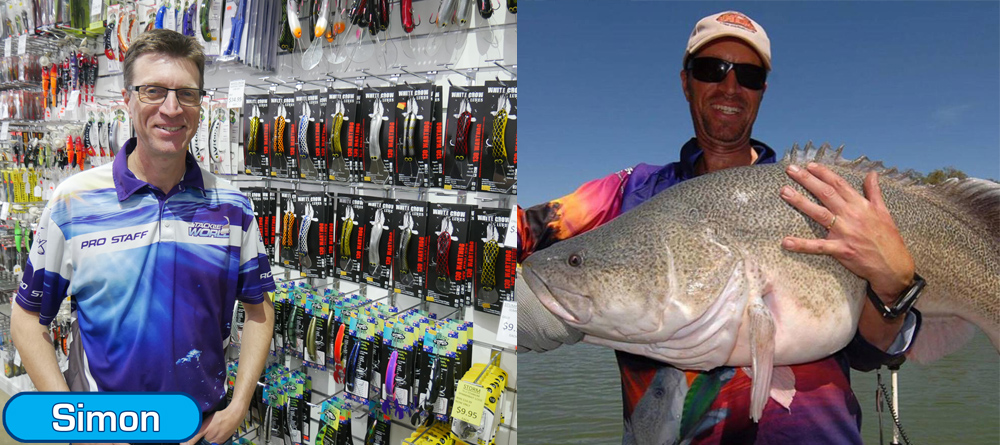 Simon is one of those fisherman who has tried every type of fishing you can imagine. Whether it be throwing big poppers at monster GT's in the northern parts of Australia, casting swim baits at elusive Murray Cod in the southern parts of Australia, hooking awesome Barramundi in the western parts of Australia or simply heading out locally for some King George Whiting, Crabs and Squid for the family dinner table. Simon can confidently help our customers with any sort of trip they want to plan, and help them pick the right gear to tackle any species.
Favourite Species: Murray Cod
Favourite Destination: Kimberley, WA.
Years Fishing: 38+ years
Specialising in: Freshwater, Lure fishing
Favourite Catch: 50lb Giant Trevally – Kimberley, WA.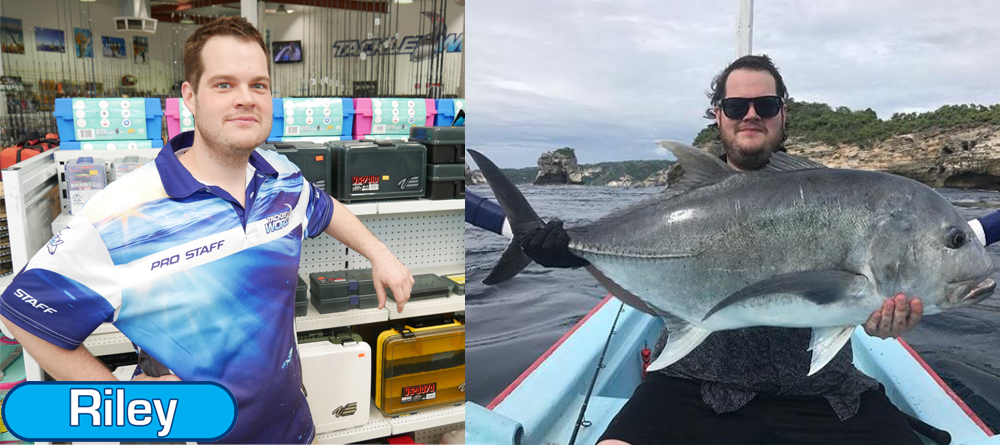 Want the best of both worlds? Riley is your man. In the fresh, Riley loves to have a crack at our iconic Murray Cod in the Murray/Darling river systems. He also goes into stealth mode to stalk the local trout populations in the Adelaide Hills. In the salt, Riley has caught just about every offshore species in South Australia. Whether it be Southern Bluefin Tuna, jumbo-sized Gummy Sharks, big Snapper or thumping King George Whiting Riley has the know how. If you love your jigging, Riley is a specialist. Whether its micro jigging in the shallow water or whopping 400g+ sized jigs in the deep water he has done it home and abroad. Riley has the skills and knowledge to enhance your fishing ability.
Favourite Species: Murray Cod
Favourite Destination: Murray/Darling River
Years Fishing: 20+
Specialising in: Freshwater, Offshore
Favourite Catch: 20kg Giant Trevally, 52cm Australian Bass
Fishing, fishing and more fishing. This was Tom's life plan. After graduating from a Marketing degree at UniSA, Tom decided to open Tackle World Adelaide Metro. The long hard days paid off and now TWAM is the finest, most modern fishing store in SA. Tom has covered vast areas of the globe chasing everything from Tiger Fish in Zimbabwe to hooking Trout on Fly in Scotland. His real passion however, is working the deep contours of the Southern Ocean right here in our backyard. Offshore fishing on our coast has been a huge part of satisfying Tom's fishing needs. Although Snapper, Samson and Tuna are all high priority for Tom, he still loves getting covered in ink from local squid grounds or simply raking a few blueys up for the family over summer. A very approachable fellow, Tom can chat to customers for ages and is surely capable of helping you get that fish of a life time.

Favourite Species: Samson Fish, Snapper, Squid
Favourite Destination: Sceale Bay, Eyre Peninsula
Years Fishing: 30+ years
Specialising in: Offshore SA waters. Samson, Tuna, Snapper, Nannygai
Favourite Catch: 30kg Samsonfish, Wedge Island, SA. 25kg Dolphinfish, Durban, South Africa. 35kg Sailfish, Exmouth, WA.